"Oregon State Capital"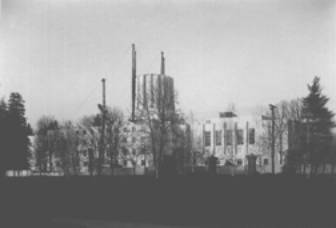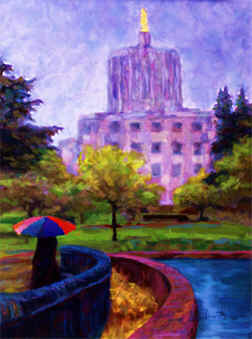 The present state capital is the third capital building in Salem. The first two burned down. It was built between December 4, 1936 and and June 18, 1938. It was designed by New York architectural firm of Trowbridge and Livingston, Francis Kelley, the Portland firm of Whitehouse and Church, and Earl P. Newberry. The general contractor was Ross B. Hammond. The capital was built in Modernistic style and enlarged in 1977. The capital faces the north end of town and Wilson Park is to the west of the building and East Park is to the east. The 'golden man' on top is a cast bronze statue called "The Circuit Rider" and it built by A. Philmister Procter.
Porter, Paul and Susan Gibby. "Oregon State Capital and the Capital Mall." Salem Online History Project. 10 Jul 2003 <http://www.salemhistory.net/places/psc001.htm>.